Lovely Roasted Brussels Sprouts with Ponzu marinade combined with a parmesan mayo dressing.
The perfect match. What's not to like?
I know what you are thinking… Brussels sprouts! No way! But… this recipe can become your favorite side dish.
Just like cabbage is the star in homemade coleslaw, Brussels sprouts, which are a member of the cabbage family, shine when halved and used roasted with a lovely dressing as a salad or just as an in-between-snack. They come out of the oven with golden brown centers and crackly, crisp outer leaves.
Homemade Ponzu sauce
Ponzu sauce is a classic Japanese tangy soy-based sauce citrus sauce. My homemade variant is based on the classic one but with a few tweaks.
Because of its versatility & refreshing flavor, you can use the sauce in many different ways. Enjoy ponzu as a dipping sauce for seafood, as a marinade for grilled meats and vegetables or dressing for salads or cold noodles.
How do Brussels sprouts grow?
Do you know how Brussels sprout grow? I didn't until I saw them in the shop on the thick stalks. Always purchased them in a small plastic bag and never thought about how they grow.
Brussels sprouts were first cultivated in Belgium, and are therefore named after its capital, Brussels. The little cabbages grow on long thick stalks, from which they must be picked off, usually by machine. 
Read much more on this cabbage vegetable on Wiki.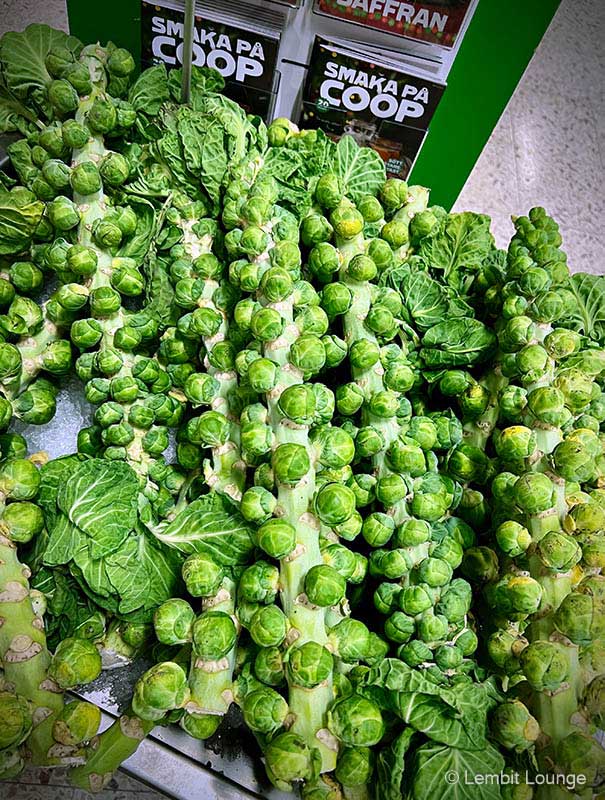 Are Brussels sprouts good for you?
Yes! Brussels sprouts are healthy and good for you! They are in the same class of vegetables as cabbage, cauliflower, and broccoli.
Folate, Manganese, Vitamin C and Vitamin K are some of the nutrients that Brussel sprouts benefit from.
They also contain fiber and antioxidants. Which help your body all over.
Tried the Roasted Brussels Sprouts with Ponzu recipe?
If you made this recipe, I would be very pleased if you tag me on Instagram with the hashtag #lembitlounge and leave a comment and rating below letting me know how you liked it!
Star ratings are especially helpful because they help others find my recipes too.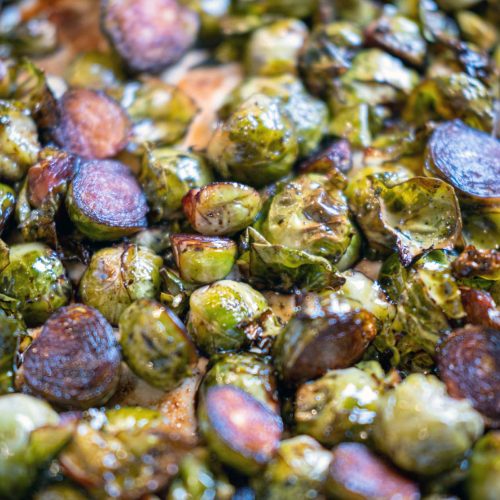 Roasted Brussels Sprouts with Ponzu
Lovely Roasted Brussels Sprouts with Ponzu marinade combined with a parmesan mayo dressing. The perfect match. What's not to like?
Ingredients
Ponzu marinade
4

tbsp

rapeseed oil

2

tbsp

soy

5

tbsp

lemon juice

freshly squeezed

1

tbsp

honey

½

tsp

cayenne

1

tsp

sesame oil

1

tsp

rice vinegar
Parmesan mayonnaise dressing
2

dl

mayo

1

dl

grated parmesan cheese

4

tsp

finely grated lemon peel

½

tsp

salt

¾

tsp

ground black pepper
Instructions
Set the oven to 200 degrees, preferably hot air if your oven has it.

Mix all the ingredients for the dressing.

Clean and trim off the woody bottom of the Brussels sprouts and halve. Put the cabbage in a bowl. Mix and whisk the Ponzu marinade and drizzle over the cabbage.

Massage the marinade into the Brussels sprouts. Feel free to separate the leaves a little if you can. Let sit for 10 minutes.

Put the cabbage in a large oven dish

Roast in the oven for 25-30 minutes. Stir after about 15 minutes.
Nutrition