A creamy chicken stew with parmesan and wine is never wrong and this recipe delivers full flavours!
I do think it's a perfect dish for both weekdays and for weekends!
Very easy to make and served comfortable in a one-pot-pan.
The chicken breasts are pan-fried until golden brown and slightly crispy from the outside and super tender on the inside.
And then I add them to the deliciously creamy white wine sauce with parmesan and thyme as the primary tastes. Guarantee to be the new favorite highlight of your family dinners.

Oh, that Creamy Sauce: Made with a bit of cream, wine, chicken stock, butter, onions, Parmesan and thyme, this sauce comes together super easily. Be sure to use freshly grated Parmesan cheese for the best flavor. I do love the sharp, acidic notes the dry white wine adds to this dish–it makes it feel a bit more sophisticated. And the crispy bacon on top. Just lovely!
Serve it over rice or with pasta of your choice. And/or make a light salad to offset that cream.
Like chicken casseroles? Why not try one of my favorites, the Swedish recipe "Flying Jacob".
Did you make this?
Did you make the Chicken stew with parmesan and wine?
Please, I'd greatly appreciate if you left a star ★ rating (located within recipe), as well as leave a comment if you found this blog post helpful and tasty! 
Star ratings are especially helpful because they help others find my recipes too.
Would love to see your picture of your dish: tag me on social @lembitlounge.
Also, you're welcome to keep up with me on Instagram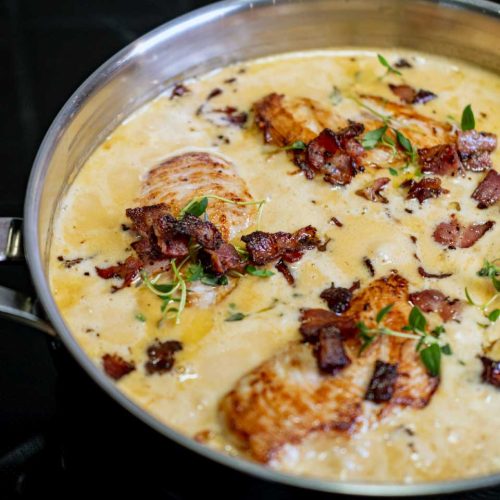 Chicken stew with parmesan and wine
A creamy chicken stew with parmesan and wine is never wrong. I think this is a perfect dish for both weekdays and for weekends! Easy to make and served in a one-pot-pan.
Ingredients
700

g

chicken fillet

with or without skin

140

g

bacon

sliced

1

yellow onion

chopped

3

shallot

finely chopped

3

cloves

garlic

pressed or finely chopped

butter

for frying

2

dl

white wine

dry wine style, I used a Riesling

3

dl

double cream

2

tbsp

chicken broth

concentrated

2

tbsp

Dijon mustard

2

tsp

Sambal oelek

optional

6

sprigs

of fresh thyme

100

g

parmesan

finely grated

1

tsp

freshly grinded black pepper

rice

or pasta for serving
Instructions
Start with the bacon and make the slices crispy fried. Put bacon aside.

Add some butter into the pan Fry the chicken in a frying pan until the skin is crispy or you got a nice brown color (if frying without skin). Add pepper and lower the heat. Cook the chicken until done (about 72-73 C° inner temp), then lift it out of the pan and put aside.

Add and fry onion, shallots and garlic in butter until soften. Add wine, cream, chicken stock, rest of the spices and thyme. Let simmer for a few minutes and then add parmesan cheese.

Now, add the chicken again and let the stew simmer until the chicken is hot. Garnish with the crispy bacon and a little thyme.

Taste the stew and serve with rice or pasta. Enjoy!

Cuisine – it's like heaven!
Nutrition
2 dl vitt vin dry, I used a Riesling