Seared Tuna with Ponzu and Buckwheat just shines in this simple Japanese restaurant-style recipe.
Serve on a bed of white sweet cabbage for a light, semi sushi-like meal for any weekday. The recipe is lovely, flavorful and very easy to make. Trust me. It's a recipe that is not only fast, but it'll turned heads too.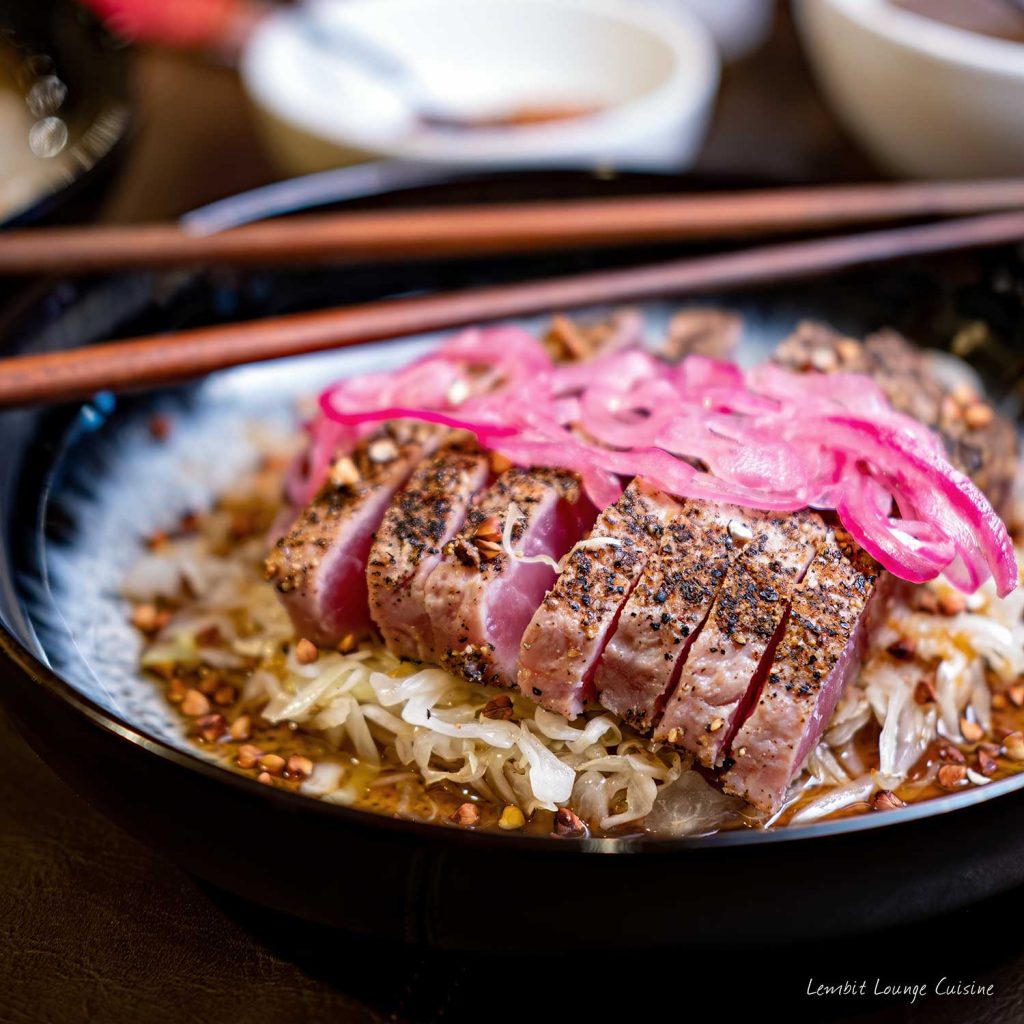 It's all about the sauce! Ponzu!
In many recipes, it's the sauce that gives the final touch to the dish. This lovely variant includes Sake, the low alcohol rice-wine from Japan.
Ponzu is a classic Japanese condiment that is both refreshing and versatile. Enjoy making this all-purpose, citrus-based sauce at home! Because of its versatility and refreshing flavor, you can use the sauce in many different ways: It's perfect for dipping dumplings, tuna, tofu and more!
And being homemade makes it so easy to adjust to your own tastes.
Sweet and sour pickled red onion
Sweet and sour pickled red onion is super tasty and goes with most things. Fits this dish perfectly.
And, they're the best way to give almost any dish a bright pop of flavor!
Also, really easy to do with a classic 1–2–3 ratio of vinegar, sugar and water.
Instructions in the recipe. A shortcut is to buy a store made onions, but why, when it's so simple to make.
What is buckwheat?
Buckwheat is not technically a grain but rather a seed from an herb related to rhubarb. These seeds, or groats, are a staple carbohydrate food used in numerous dishes in Asia and northern climates.
Roasted buckwheat groats are known as kasha, and with an earthier, slightly more bitter flavour, they make a highly addictive crunchy snack. And the crunchiness is what we want here.
Buckwheat is a highly nutritious whole grain that many people consider to be a superfood. Dive in and read regarding the benefits.
Do Sustainable tuna and look for certification.
Also, we all need to think about Sustainable tuna and certification.
"Tuna is and one of the most eaten fish in the world. It belongs to a subgroup of the mackerel family and consists of 8 species that vary in color and size. Tuna is a nomadic species and is found throughout the world's oceans.
Remember to buy certified tuna, read more here.
Let me recommend a few other "Meat without legs" recipes':
Easy to do and super tasty:
Did you make this?
Did you make the Seared Tuna with Ponzu and Buckwheat?
Please, I'd greatly appreciate if you left a star ★ rating (located within recipe), as well as leave a comment if you found this blog post helpful and tasty!
Star ratings are especially helpful because they help others find my recipes too.
Would love to see your picture of your dish: tag me on social @lembitlounge.
Also, you're welcome to keep up with me on Instagram
Seared Tuna with Ponzu and Buckwheat
Seared Tuna with Ponzu and Buckwheat shines in this simple Japanese restaurant-style recipe. A semi sushi-like meal for any weekday.
Ingredients
Tuna
300

g

Tuna

canola oil

a few drops

Salt and freshly ground black pepper

to your liking
Pickled red onion
1

dl

vinegar

2

dl

sugar

3

dl

water

3

red onions
Ponzu sauce:
½

dl

Japanese sake

½

dl

rice vinegar

½

dl

brown sugar

1

lime

freshly pressed juice

⅓

dl

Japanese Soy

1

tbsp

sesame oil

3

cloves

garlic

finely grated

1

tsp

ginger

finely grated
Sweetheart cabbage
300

g

Sweetheart cabbage

shredded
Instructions
Sear the Tuna
While your pan is preheating (high), you can prep your fish.

It's important to dry the fish well on both sides, using paper towels—minimizing surface moisture helps speed the searing process along and reduces the chances of the tuna sticking to the pan. Put a few drops of oil on tuna and season with salt and ground pepper.

Sear the tuna in the hot pan for about 35 seconds, per side, depending of thickness. My tuna was about 2 cm thick.

When ready set aside. Slice the tuna in thin slices when assembling the dish
Pickled red onion
Boil the vinegar, sugar and water until the sugar dissolves, remove the saucepan and let cool slightly.

Peel and slice the red onions as thinly as possible, preferably with a mandolin.

Put the onion in the mixture, stir and pour into a jar with a lid. Sliced onions should be completely immersed in vinegar solution.

Let stand in the fridge for at least 1 hour before serving, preferably overnight.
Ponzu sauce
Combine all ingredients in a bowl. Cover and chill.
Buckwheat
How to toast: Bake for about 10 min in a pan on a stove on mid-heat. Stir occasionally and check so they are not burnt.
Sweetheart Cabbage
Take the finely shredded cabbage in a pan, mid-high, and fry it for a couple of minutes with some oil/butter. Ready when starting to get soft and some slightly color.
Notes
Pickled onions will keep in the fridge for up to three weeks.
You can store ponzu sauce in a clean jar in the refrigerator, up to 1 month.
Nutrition