Irresistible Bombay Spicy Potatoes with aromatic flavors, and they are perfect to serve as a snack as is, or an appetizer or a side dish.
Each potato gets coated with a combination of earthy, spicy and tangy spices , which makes this a crowd-pleasing starter. I serve these in a platter with cocktail picks on the side.
The best part of making this Bombay spicy potato is that it does not take much time. Most of the time required is for boiling the potato. I do not even peel them. Once the potatoes are boiled it takes only about 7-10 minutes.
And as tradition requires, potatoes are first boiled and then sautéed in spices. That's it. It's is one of the easiest Indian side dish you'll ever make.
I'm a big fan of potatoes dishes and these are no exception. I could not resist myself and kept eating them, until they were all gone.
Spices
Spices are the secret to the best ever Bombay Spicy Potatoes. Hopefully you'll already have them in your kitchen cupboard. Otherwise you should find them in most supermarkets.
You can vary your seasoning with various spices such as cumin, curry, garlic, garam masala, turmeric, mustard seeds, chili powder, cayenne powder, mango powder, salt and pepper. It's pretty much up to you. And it's fun to change the spices from time to time.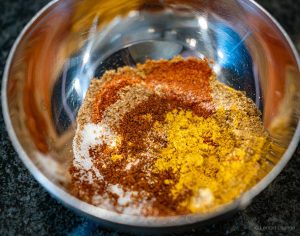 For younger kids these may be a little spicy , and therefore you need to adjust the hot spices powder ratio.
How to Serve Spicy Bombay Potatoes?
This dish is pretty universal and can be served as an appetizer/snacks, as well as a side dish.
Appetizer: Bombay Potatoes make for a awesome appetizer. Serve them in a bowl along with cocktail picks for easy serving.
You can have some dipping sauce of your choice. I have used:
– prefab-made mango-ginger sauce (super!)
– mayo/Sriracha mayo
– ketchup
Side Dish: These spicy roasted potatoes make a perfect side to any Indian curry or some grilled steak, chicken, ribs or as I did, served with flavorful sausage, Sremska.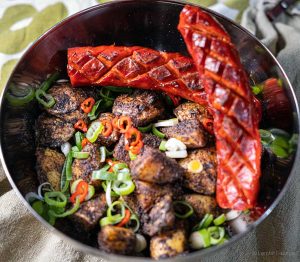 Other Potato recipes
Here you have some other potato recipes but a stunner is the Buttery Muffin Potato Stack with Parmesan
Try, taste and give feedback!
Why don't you try, taste and give some feedback in the comments. Maybe with your own delicious variant/adjustments?
And, I would be very pleased if you gave me a star rating!
Star ratings are especially helpful because they help others find my recipes too.
Bombay Spicy Potatoes
Irresistible Bombay Spicy Potatoes with aromatic spices, and they are perfect to serve as a snack at is, or an appetizer or a side dish.
Ingredients
600

g

potatoes

cut into approx 2cm bite chunks

1

tbsp

Madras curry powder

1

tsp

cayenne powder

1

tsp

garlic powder

1

tsp

smoked pepper powder

1

tsp

ground coriander

1

tsp

ground cumin

1

tsp

salt

3

tbsp

olive oil

1

chili

garnish

2

spring leek

garnish
Nutrition