Salmon, ham, avocado, beets, wasabi topped with passion fruit dressing and just by reading the ingredients you'll get a hint of tastes that lays ahead.
An absolutely delicious dish which I've used both for New Year's Eve as a starter or on a weekday as a healthy dinner.

Normally I have only used the passion fruit as a breakfast item but when used as a flavor in a dressing, it's just super.
The passion fruit is ripe when the skin is rough. Cut in half and dig out the contents with a teaspoon. You usually eat both kernels and pulp.
Btw, did you know: passion fruit is an exotic fruit, but is actually a berry. More deep info about passion fruit.
Even more about passion fruit, I got connected with a web friend, Jesse, (@ Happy DIY Home) with an excellent post of how to grow your own passion fruit plant! Why not give them a visit and read the how-to.
The flowers on the passion fruit plant are two to three inches wide, and they have five whitish-green sepals with five white petals and a fringelike growth that comes out of a deep purple base. If this sounds intriguing and you want to know how to grow the passion fruit plant in your home, read on."
A few easy to make starters, salads or appertizers. Your choice and you can not go wrong with these:
One very easy to to throw together, shrimp salad with a lovely passione fruit dressing. The other an elegant starter that really get your guests exited.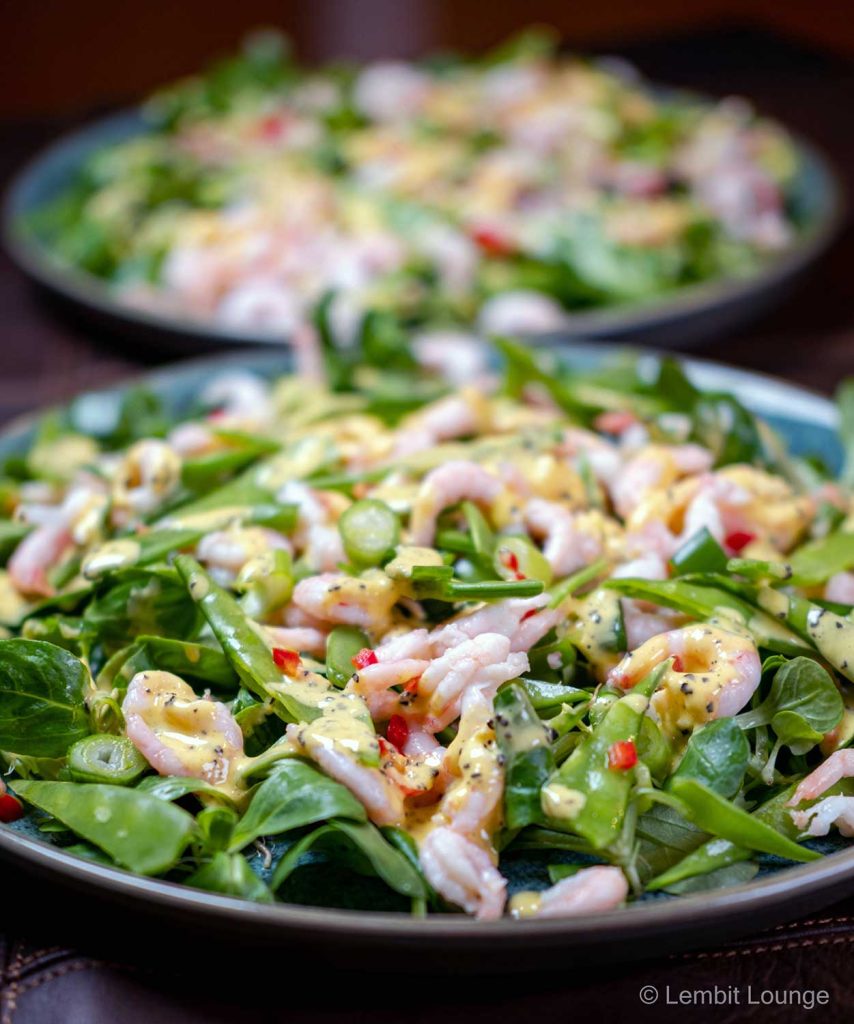 Did you make this?
Did you make this delicious Salmon ham avocado beets wasabi topped with passion fruit dressing?
Please, I'd greatly appreciate if you left a star ★ rating (located within recipe), as well as leave a comment if you found this blog post helpful and tasty! 
Star ratings are especially helpful because they help others find my recipes too.
Would love to see your picture of your dish: tag me on social @lembitlounge.
Also, you're welcome to keep up with me on Instagram

Inspirational cred for the original recipe goes to Landleys kitchen (in Swedish)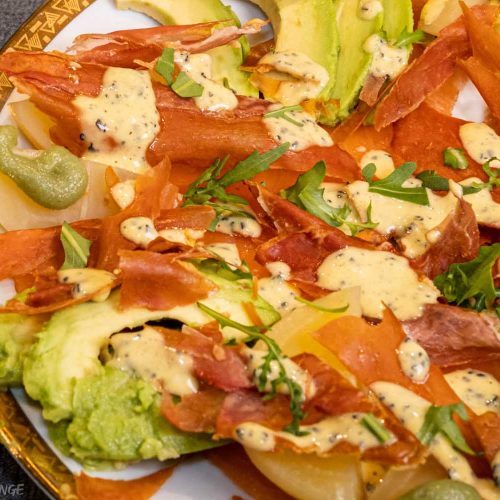 Salmon ham avocado beets wasabi topped with passion fruit dressing
Fantastic combination of different tastes between smoked, salt, sour and with consistence that varies between crispy, creamy and soft. Absolutely delicious dish.
Ingredients
4

medium-sized yellow beets

salt

for the beets

3

passion fruit

ripe

0,5

dl

olive oil

extra virgin

1

pinch of salt

for the dressing

150

g

serrano ham

sliced thin

2

avocado

ripe

200

g

cold smoked salmon

thin slices

wasabi paste
Instructions
Start with the beets. Peel, cut in halves/quarters and let them boil in salted water. I've done it a couple times and they are some stubborn vegetables and will takes about up to 45 minutes to be soft and ready. You do not want to chew on a semi-ready beet.

In the meanwhile, place the serrano ham on a baking sheet paper and set in the oven at 140°C/285°F for 15 minutes so the ham dries.

Suggestion: add a few minutes for the really crispy touch. It's like super crispy bacon without fat.

Further, scrape out the passion fruits and put in a blender together with olive oil. Use a mixer to blend a smooth dressing and taste with a pinch of salt.

Slice the avocado. Spread salmon, beets and avocado on the plates. Shred the serrano ham into strips and spread over. Put a few clicks of wasabi dots around the plate, both for taste but as well as decoration. Finally, drizzle over the passion fruit dressing plus have decorated with some green hacked ruccola.

Enjoy!
Notes
I have used the recipe both as a starter or as a dinner. Sizing is 4 people for starter or 2 for dinner. 
Nutrition